Ashtae Products Review & Update.
Updated on November 6, 2018
Ashtae Products Season 4 Episode 14 Review
The Company: Ashtae Products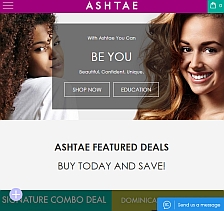 The Owner(s): Michael and Ramona Woods
Website: https://ashtae.com/
Intro To Ashtae Products
In this episode of the profit, Marcus visits Ashtae Products. A company based in Greensboro, NC and run by Michael and Ramona Woods.
We are currently compiling this Ashtae Products episode review and will be uploading it soonest.
Enjoy this short clip for now.
We'll be updating you about:
Problems/Issues In The Business Found By Marcus
The Financial Situation Of The Ashtae Products Business
Marcus Offers Michael and Ramona Woods This Deal.
Solutions Suggested/Implemented by Marcus To Improve The Business
After The Deal…
Conclusion
Don't forget to leave your fan comments here below and your thoughts on the Ashtae Products episode. We really do rely on your comments for updates and information, so please share them with us.
Like us on Facebook and share this post with your friends through the social buttons here below.
See you in the next one.
Thanks again for visiting.
Rob