Courage b To Open A New Store In Atlanta Georgia.
Updated on November 6, 2018
New Courage b Update.
In this second season of the Profit, Marcus Lemonis made a deal with the Stephanie Menkin, Nicolas Goureau and Designer Noemie Goureau for a part in their company Courage b.
A high-end women fashion clothing business which currently has 6 locations across the US. Check out our review of that Courage b episode if you missed it.
Marcus invested $800,000 for 30% of the business in that episode and quickly turned it away from failure by renovating the stores, helping the family resolve its issues and improving the Courage b line and product.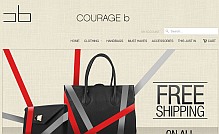 We have just gotten word that Courage b together with their new partner Marcus will be opening a new store in Atlanta Georgia. In the next 12 months, the company is planing to open new clothing stores in other large metropolitan cities like Dallas, Denver, South California, Miami and Chicago.
Expansion is key in Marcus' plans for Courage b and this is how top CEOs do it. You go big or you go home…
The new Atlanta store grand opening will be in February 2015. It will be located in the new Buckhead Atlanta fashion center and will feature Courage b's line of clothing, accessories and handbags.
So business is about to seriously take off for the Courage b brand since the partnership with Marcus Lemonis on the profit. This is what can happen to a business when a great investor comes in and it gets nation-wide exposure on a reality TV show.
It also shows the dedication of owners Stephanie Menkin, Nicolas Goureau and Designer Noemie Goureau to make Courage b a huge success.
We here at theprofitfans wish Courage b and the Goureau family all the best in this new venture.
Rob
PS: Here is the full press release if you are interested in the details http://www.marcuslemonis.com/blogs/news/17873131-entrepreneur-marcus-lemonis-to-open-new-upscale-womens-fashion-brand-courage-b-in-atlanta-georgia