Planet Popcorn Given Second Chance
Updated on November 6, 2018
Planet popcorn update.
So Marcus revisits Sharla McBride planet popcorn episode. He says that Sharla lost her Disney contract and decided to contact Marcus again for another chance.
To Marcus once again meets Sharla and this time she's dressed up elegantly and looks responsible.
She shows Marcus around the business which looks a little bit more organized this time. Especially if you consider that that the last time Marcus went there, there was cash on the floor everywhere.
She even tells Marcus she has a bookkeeper now and that the relationship between her and her mom (who she may take out a mortgage on her home to help finance the business) is now good.
She now pays her mom's mortgage in the bid to help repay the loan her mum gave her.
So there is no more money on the floor of her office, there are security cameras installed to keep an eye on the cash room and her business. The money gets put into a safe before it is transferred to the bank all this under the watchful eye of manager and the cameras.
Sharla has even updated her inventory system.
All this sounds very impressive but is it just the new face for us the TV viewers. Considering how much backlash got, even on this page, I believe it's in her best interest to try to clean up her public persona.
It may also have to do something with it getting back that Disney contract does it?
Marcus and Sharla sit down to make a new deal.
They agreement to an investment of $50,000 for 40% of the business and the royalty of 50 cents for each pack of popcorn sold.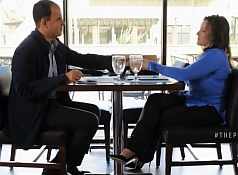 Looks like Marcus is back in the popcorn business WITH SHARLA?????????
Well, theprofitfans.com wish them the best and hope nothing crazy happens in the future.
Rob