1-800 Car Cash Now Fully Owned By Marcus Lemonis
Updated on November 6, 2018
New Car cash update.
In the last season of the profit Marcus Lemonis invested in the company called Car Cash (here is the car cash episode review), a car buying and selling company based in New York owned by brothers Andrew and Jonathan Baron.
Marcus invested $200,000 of his money for 100% of the business making the former owners Andrew and Jonathan licensees of the company Car Cash.
Today Car Cash makes over $10,000 per month and the brothers are finally making money.
In fact, Andrew and Jonathan just opened the second location for car cash in New Jersey then things are looking great for them. They in the process of opening three more locations of car cash.
Andrew and Jonathan now make around $2000 per car in profit which is a 100% increase in the amount of money they made before Marcus came into the business.
Today Marcus has invested over $1 million in the Car Cash brand and he's taking the business all over the country with new locations.
Currently, there are 70 locations for car cash, there is a national 1-800 number and the brand 1-800 Car Cash is now becoming one of the biggest brands in the US car buying service sector.
It is the national car buying sponsor of NASCAR racing.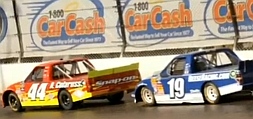 Congratulations to Marcus Lemonis and to the brothers Andrew and Jonathan.
We wish Car Cash all the best.
Rob