Planet Popcorn – The Profit CNBC Season 1 Episode 3
Updated on November 6, 2018
Marcus Lemonis Vs Planet Popcorn
The Company: Planet Popcorn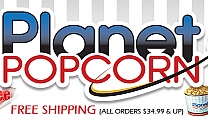 The Owner(s): Sharla McBride

Website: http://planetpopcorn.com/
Intro
In this weeks episode of The Profit CNBC, Marcus Lemonis visits Planet Popcorn, a milti-million dollar popcorn business with a huge Disney contract.
Run by Sharla McBride, the company started from a single cart and $250 to become a huge multi-million dollar business with 30 employees.
Planet Popcorns' marketing strategy has always been to sell at fairs and farmers markets all around the California. The bulk of their revenue however is generated at the downtown Disney fair.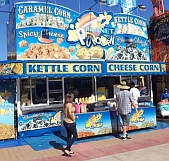 The company generated $2,500,000 this year (2013) in revenue but just can't make a profit.
With $200,000 in debt most of it from the remortgaging of her mom Sharrys' house, Sharla understands that something has to be done to turn the business around or she and her mom will lose everything.
Being an all cash business, Planet Popcorn is struggling to keep its cash flow under control and constantly loses money as anyone has access to the cash.
Marcus however, is very positive that he will be able to make a lot of money with this business. He plans to turn the brand into a national mega brand thereby expanding the business to $10,000,000 a year revenue.
As soon as Marcus meets the owner Sharla at a carnival, he notices that there is a lot of cash all around not properly stored.
With no safe and no interested in for controlling inventory and cash, the situation looks totally out of control.
He later on visits the business office and sees cash literally all around the office floor.
As the episode goes on, we found out that Sharla is quite a character. She has absolutely no concern for accountability and the safety of her money.
Its starts to look like the Planet Popcorn is just a hand to mouth business, where the owner (and possibly employees hanging around) gets to take out when ever she wants with impunity.
Marcus asks Sharla, "where's accounting?" and she responds "she's (her daughter) counting".
Enter Steve, Sharlas' fiance. He is the creepy dude that might be responsible for Sharlas" lack of spending control, but that's just out opinion :)
He is immediately on the defensive with Marcus and we can see he is hiding something.
Steve is very defensive of Sharla and pledges to protect her in her dealings with Marcus.
Problems/Issues In The Business Found By Marcus
With no real profits to show even after consistently generating 7 figure annual sales, here are some of the issues Marcus found in Planet Popcorn.
Total Mismanagement of the business with the balance sheet in total disarray.
Sloppy accounting and cash management.
Huge loans taken to keep the business open which even involved remortgaging the owners' moms home.
Lack of focus on the main source of income (popcorn) with unnecessary expansion into the unproven crepes market.
Inventory with no codes or tracking on them.
No website or online presence
Solutions Suggested/Implemented by Marcus To Improve The Business
Resolve management problems.
Marcus went ahead and bought the relevant domain names for the  website.
Create a product delivery/fulfilling system in place.
Settle down in Disney with a store instead of trolling the fairs.
Open another store outside of Disney to gain store running experience.
Control the money and the inventory.
Focus on 1 product (popcorn) that is the bulk revenue generator for her business and forget about the smaller crepes idea.
Expand the popcorn flavors to increase the range of products.
Logo redesign and brand refreshing
Create Pop One, an organic version of her popcorn business.
Move the business from 2 million to 10 million dollars as fast as possible.
Protect the cash coming in from sales so as to stop the loss of money.
The Deal
Marcus offered $200,000 for 50% of the business contingent on getting hour of the fairs/carnival business and focusing on the popcorn side.
Sharla though is not interested in leaving the carnival business as it has become a social lifestyle for her.
Marcus will also need operational control for a week and financial control of the business till things improve.
At this point, Steve, Sharlas' fiance flips out and says NO. He tells Sharla that it is not smart to hand over financial control to a Billionaire.
He convinces her not to give Marcus control.
Finally, Marcus and the employees all convinced Sharla to take the deal and she does.
Now the work to turn around the business begins
Episode Review
Looks like Sharla is still very interested in her crepes. She is also totally opposite to Marcus when it comes to location for the store.
He takes her to a well traffick-ed location and she shows him her non frequented location choice.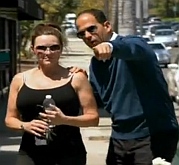 The episode moves on and there is a feeling of subtle distrust between Sharla and Marcus.
Anyway, Marcus still wants to make this work and joins the staff in cleaning up the business premises. He sure is a hands-on guy.
Security cameras are installed around the premises and stores to monitor the business and prevent cash theft.
The inventory is now fully tracked and a new sales strategy to record the incoming and outgoings of the business is being implemented.
A meeting with the web designer reveals the format for the website.
A decision to look through the accounting books drops a bombshell on Marcus. With the accountant, Marcus finds out planet popcorn actually made a profit of more than $300,000.
Incredibly, there is no cash in the bank and Marcus wants to know where the money went. Matter of fact, WE ALL WANT TO KNOW WHERE THE MONEY WENT.
Sharry, Sharlas' mom interrupts the session to say that her daughter doesn't want Marcus to look at the finances. That's strange because Sharla gave permission to look at them.
Marcus confronts Sharla about this and she is not shocked by the revelation. She simply tells him she doesn't know quick books and is not an accountant. Sharla then tells her mom who was listening that "Its her money".
After inviting a forensic accountant to look at the books. His verdict is that there is even more money missing, more than $80,000.
Sharla says she controls the cash and she is not a thief. Clearly, that statement wasn't the right one considering there is almost 300 grand in cash missing from her account.
This is getting worse and Marcus is seriously thinking he may not be able to save the business. The forensic accountant advices Marcus NOT to do the deal.
Conclusion Summary & Updates on the Business
By the end of the episode, there is even more trouble. Sharla has been talking to the web-designer about buying the domain name Marcus got earlier behind his back.
Sharla says there is nothing wrong with that since sheand Marcus are 50-50 partners. Looks like planet she is in this to screw Marcus.
Sharla now breaks down and cries. She says Marcus is making her look like a dishonest person.

The trust is now all gone and it looks like the deal can't continue.
So the final decision is in. Marcus backs off and the deal IS OFF.
So that's it folks.
If you think the Jacob Maarse episode was crazy, I cant wait to find out what you think about this one.
Feel free to comment below and join the discussion.
Thanks again for your visit and I hope you enjoyed our episode review.
Cheers
Rob
<< Visit the previous episode Jacob Maarse – The Profit CNBC Season 1 Episode 2
>> Visit the next episode Eco-Me – The Profit CNBC Season 1 Episode 4